Old Tableau Oil on Canvas Painting French Impressionist Landscape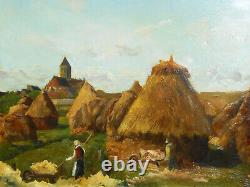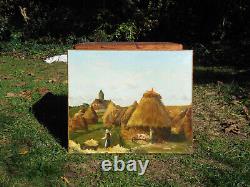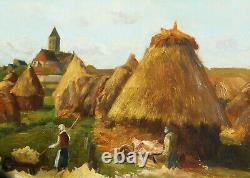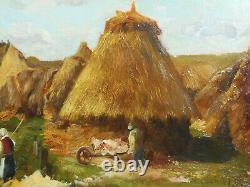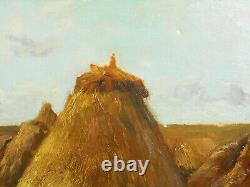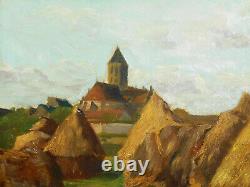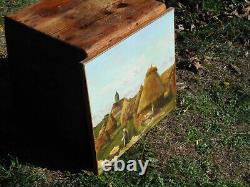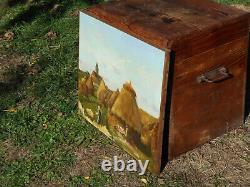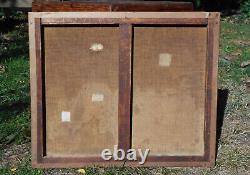 Hello, I am selling this painting that measures 46 cm in height and 55 cm in length. It does not appear to be signed. It is a superb oil on canvas from the 19th century, probably painted by a French artist, given the elements of this typically rural scene.
The scene unfolds under pleasant white and gray clouds, with two peasants busy forming haystacks in a particularly difficult and laborious way, as was done in the old days without modern technological means. In the background, there is a part of a village dominated by its church. The contrasts are mainly present in the foreground to emphasize the presence of the haystacks, which are the central subject of this composition with its unique charm of old France. Please note that there are some paint losses, especially at the bottom, five small stains at the top that seem removable, a very slight impact (sixth photo, top right of the haystack), as well as traces of restorations on the back of the canvas and some overpainting. There also seems to be a lack of paint in the form of a horizon line, unless that is the actual horizon line itself.
Despite these flaws, the overall condition is excellent for its age, and the canvas appears to have been well relined. This is a great gift idea for collectors, people attracted to vintage items, curiosities, decorative objects, or simply those who appreciate their intrinsic beauty! The item will be shipped promptly and with care, unless you prefer a hand delivery, which is possible if you make the trip. If you have any questions or would like more photos, please don't hesitate to let me know.