Sourdillon Berthe (1895-1976) Civry Washhouse Oil On Canvas Old 1941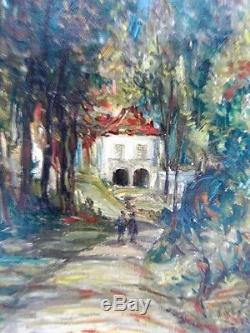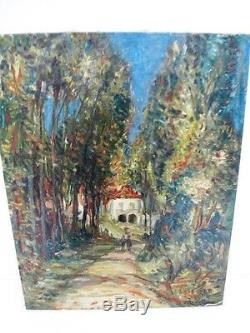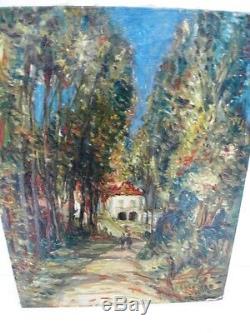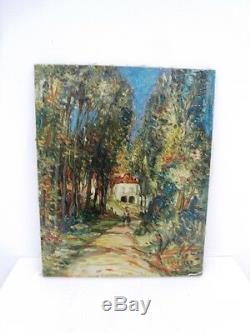 House at the bottom of a wooded path with a couple of characters. Beautiful old expressionist oil on canvas. Stamp of the workshop on the back. Dated 1941 on the back.
Possibility of multiple payments by check or bank transfer without charge. (delivery of the object after receipt of the last payment). As great professionals of the art market for decades, you buy under our acronym "ptt" which gives you a label of quality for your purchase as well as a guarantee of seriousness, reliability and success in your investment.
Also, this announcement titled our label "ptt" has value certificate of authenticity for the buyer. Do not hesitate to visit no. Tre shop and add us to your favorites! The career of this artist, arrived at the development of her talent, was a great adventure pursued through time and continents.
Her youth dragged her into all the countries of Europe then; from Russia to the Americas. In France, she knew the lustrustre merchant: zborowski, of which she had a contract in 1926, as well as kikoin, kreomen, and especially soutine, in the friendship of which she lived by benefiting from her precious pictorial advice. Continuing her exploration of the world, she continued to travel to new countries. The flamboyant coastline of the Mediterranean, Spain and America with the fantastic mountains of stone and landscapes of Mexico; even more vertiginous, which inspired him his most intense pictorial visions.
This change of scenery is reflected in the evolution of the painting of sourdillon. Starting from a sober naturalism, with discreet tones, she first painted canvases with precise lines and many portraits until 1945. Around 1946, her lyricism content broke out in vast still lifes; brimming with vibrant colors, deployed in plunging perspectives. From then on, his art is released more and more. For her, it is the light that creates the color.
She works in the early morning, in front of a white sky and even more in the evening, where all the tones reach their supreme radiance. Thus, the red silhouettes of the dagay rocks; springing from the blue sea, become a mythical landscape. Seen from afar, the skyscrapers of New York are a trickle of precious tones whose trails glide over a stormy sky. In the great compositions inspired by Mexico, the colors intertwine in a dream festival where ancient temples revive a magical existence. The art became the plastic translation of the most thrilling emotions; this is the message of this great, vibrant and profound artist. It is the most beautiful homage that could make to chaïm soutine!
Artist "international reference\We can therefore expect in the near years to a significant start of its coast! Note info: this is a beautiful painting of.
In school and the movement of soutine. As an indication, a painting of a size 30 x 40 cm to 65 x 50 cm of the latter is sold today. Between 1,000,000 and 3,000,000 euros .. welcome to the painters witnesses of their time (acronym: ptt). For decades, the painters witnesses of their time have made you discover, exhibit, sell; especially artists of the beginning of the twentieth century who; by their talent, have marked their time and can now be part of the history of modern painting of the past century and the school of paris.
You will find in our site (at real prices "auction room"), a sample of the wide choice that is proposed to you today via our gallery located at: 19 boulevard soult, 75012 Paris (porte dorée). So as a buyer with us, you will save up to 25% (or more) of buying costs compared to public auctions. Contact us for any information / rv: 06 09 20 26 66. We hope that your acquisitions will fill your pleasures dart art as an individual, professional or collector aware. Invoice through the "on demand" sales site.
A hand delivery by appointment to our gallery is possible as well as a cash settlement within the legal limits. Authenticity of the proposed works guaranteed.
Secure shipping possible worldwide at the express request of the buyer with an insurance all risks "ad valorem" at its expense. We inform you that new paintings, drawings, modern and old engravings will soon be on sale on our site. A large part of the artists that we propose to you are artists "of international reference\ To follow closely! Think of adding us to your "favorite sellers" and good shopping to you. General conditions of sales (prevalents those of the sales site).
All works are carefully packaged by us and shipped within 7 working days from the date of receipt of your payment and / or cashing of your check. The shipping costs, borne by the buyer, are modeled on the current rates of the post and / or the carrier chosen according to the size and weight of the package to which will be included a fixed price (calculated to the fairest) for packaging and handling (bubble plastic, pouch, cardboard, tape etc. Shipments will be made either. At the request of the buyer, an insured risk insurance (declared ad valorem) of the parcel price may be taken out at the expense of the buyer / recipient.
Beyond a value of 200 euros and at the express request of the buyer, an insurance "all risks ad valorem" will be taken at its expense per tranche of 100 euros with a maximum ceiling of 1000 euros per package. Important: the buyer / recipient must imperatively in case of damage to the delivery of his package, mention specific reservations on the form and confirm them officially in writing within 3 days (imprecise and general reservations, for example: " subject to unpacking \"So your payments will have to be inclusive of all costs". You are advised to ask us the total to pay us before making any payment. For possible returns, the refund will be made by check to your order or transfer within ten business days after receipt of the package returned in r / ar ie in the same shipping terms as our original shipment. We do not accept any liability for performance of the contract due to force majeure such as strike, internet network incident, natural disaster, aggression, flood, fire etc.
In case of conflict and outside of any amicable solution highly recommended, the district court of paris will be only competent. These terms and conditions prevail and replace all that may exist elsewhere. The item "sourdillon berthe (1895-1976) civry old oil wash on canvas 1941" is on sale since Wednesday, November 16, 2016.
It is in the category "art, antiquities \ art of the twentieth, contemporary \ paintings". The seller is "lespeintrestemoins" and is located in / in paris.
This item can be shipped to the following countries: united states, european union, canada, switzerland.
type: oil
period: xxth and contemporary
theme: landscape
characteristics: signed