Triomphe Of Galatée Old Oil Painting On Canvas Nude Painting Mythological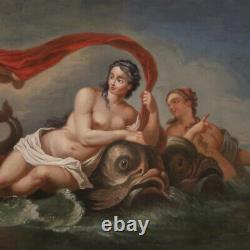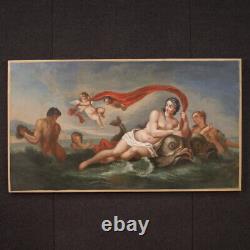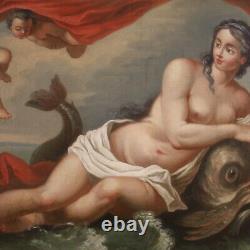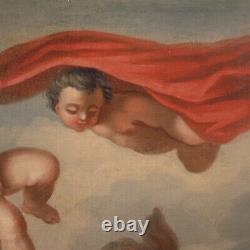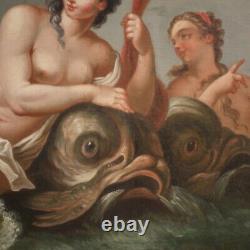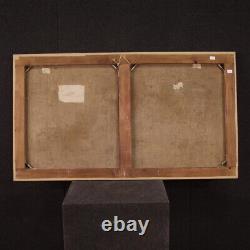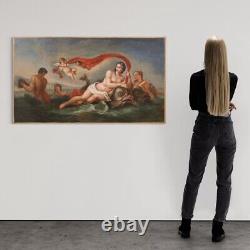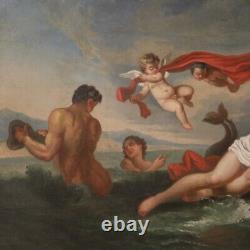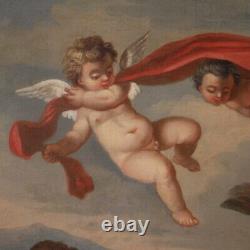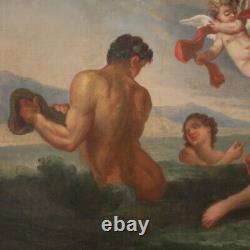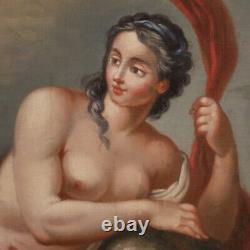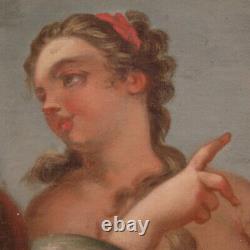 Triomphe de galatée old oil painting on canvas nude painting mythological. Ancient Italian painting from the 18th century. Oil on canvas work representing a mythological subject, the triumph of galate, of good pictorial quality.
Painting of good size and pleasant furnishing characterized by colors tending towards pastels, with good brightness. Table that develops horizontally, galated is represented elongated on a couple of dolphins, next to a graceful nereid. Angelots play with her by holding a red coat swollen by the wind. The myth tells that gaated was in love with a handsome young man, and that the polyphemy cyclope, envious of the young man and in turn in love with the nymph, after trying in vain to attract him to the sound of his flute, killed here by throwing him a big rock. The blood of aci was then transformed into a source and himself into a god of the river.
A work that has undergone a conservative restoration, reintroduction, replacement of the chassis and reintroduction of color in certain places (see photo). Three patches were also placed on the back (see photo). Painting in good condition overall. H 86 x W 151 x D 2 cm.
Free shipping in all Europe. Each item is packed with the best care and professionalism, sealed inside custom-built wooden boxes and accompanied by a certificate of authenticity and warranty as well as photographic documentation.
Parino mercato antiquario wants to stand out by offering free the best packaging and shipping service on the market. Once the payment is received, the shipment will be carried out with a street front. We do not accept cash payments at the rebate. Payment must be made within 7 working days of the time of acquisition, otherwise the item will be considered unsold and returned for sale. Each item will be accompanied by a tax ticket, if you want the invoice to be charged at the time of acquisition.
Free return within 30 days. Customers will be able to cancel their acquisition within 30 days of the rebate without penalty or need to give any motivation. The costs of restitution shall be borne by the seller. Damaged or modified items will not be accepted. The goods must be returned to the original boxes used for the shipment.
Italian painting from the 18th century. Oil on canvas depicting a mythological subject, the triumph of galatea, of good pictorial quality.
Painting of good size and pleasant furnitures characterized by colors tending towards pastels, with good luminosity. That developments horizontally, galatea is represented lying on a pair of dolphins, next to a graceful nereid. Cupids play with her while holding a red mantle inflated by the wind.
The myth tells that galatea was in love with aci, a beautiful young man, and that the cyclops polyphemus, envious of the young man and in turn in love with the nymph, after having tried in vain to attract her with the sound of his flute, killed aci by spinning a wide bolter at him. Aci's blood was then transformed into a spring and hisself into a river god. That has undergone a conservative restoration, relining, replacement of the stretcher and color recovery in some places (see photo). Three patches have also been placed on the back (see photo). Overall in good state of conservation. H 33 x w 59 x d 0.7 inches. Free return within 30 days. We cannot accept return of modified or damaged items. Antico dipinto italiano del xviii secolo. Opera olio su tela raffigurante soggetto mitologico, il trionfo di galatea, di buona mano pittorica. Quadro di bella misura e piacevole arredamento caraterizzato da colori tendi al pastello, di buona luminosità. Opera che si sviluppa in orizzontale, galatea viene rappresentata distesa su una coppia di delfini, acanto ad una graziosa nereide.
Amorini giocano con lei tenendo disso un manto rosso gonfiato dal vento. Il mito narra che galatea pite innamorata di aci, un giovane bellissimo, e che il ciclope polifemo, invidioso del giovane e a sua volta innamorato della ninfa, dopo aver tentato di attinarla invano con il suono del suo flauto succise aci scagliandogli addosso un grande masso. He sang di aci venne poi trasformato in una sorgente e il stesso in un dio fluvial. Opera che ha sovito un intervento di restauro conservativo, rintelo, sostituzione del teleaio e ripresa del colore in alcuni punta (vedi foto).
Sono state inoltre mass tre tope sul retro (vedi foto). Quadro nel completeso in buono stato conservativo.
Spedizione free of charge in tutta europa. Ogni articolo viene imballato con la massima attenzione e professionalità, sigillato all' interno di cassé in legno costruite su misura ed accompanito da un certificateo di autenticità e garanzia integrato da documentazione fotografica. Parino mercato antiquario vuole distinguishsi offerendo gratuitamente il miglior servizio di imballaggio e spedizione sul mercato. Una volta ricevuto il pacamento verrà effectuata la spedizione con consegna fronte strada. Not è accettato he contrassegno.
Il pacamento deve essere effettuato entro 7 giorni lavorativi dal momento dell'acquisto, in caso contrario l'articolo sarà considerato invenduto e rimesso in vendita. Ogni oggetto spedito sarà accompaniato da scontino fiscale, se desiderate la fatura questa va richiesta al momento dell'acquisto. If offer e si pretende la massima serietà nella transazione, siete pregati di fare offered solo se seriamente intenzionati all'acquisto. Restituzione gratuita entro 30 giorni.
I clienti potranno annullare l'acquisto entro 30 giorni dalla consegna senza penaltytà o necessità di dare alcuna motivazione. I Costi di restuzione sono a carico del venditore. Non saranno accettati come reso articoli danneggiati o modificati. I beni dovranno essere rispediti nelle cassée originali utilizzate per la spedizione. Antike italianische malerei aus dem 18.
Gemälde öl auf leinwand, das ein mythologicesches thema darstellt, der triumph von galatea, von guter bildqualität. Gemälde von guter größe und angelehmer einrichtung, die sich durch farben auszeichnet, die zu pastelltönen neigen, mit guter leuchtkraft.
Die malerei, die sich horizontal entwickelt, zeigt galatea liegend auf einem delfinpaar neben einer anmutigen nereide. Amoretten spielen mit ihr, während sie einen vom wind aufgeblähten roten mantel stallen. Der mythos erzählt, dass galatea in aci, einen schönen jungen man, verliebt war und dass der zyklop polyphem neidisch auf den juungen mann und seinerseits in die nymph verliebt war, nachdem er rodblich versucht hatte, sie mit dem klang seiner flöte anzuziehen, töte aci, indem er einen großen felsbrocken auf ihn warf. Acis blut wurde dann in eine quel und er selbst in einen flussgott verwandelt.
Bild, das einer konservativen restaurierung, forgets, austausch of keilrahmens und partialr farbwiederherstellung unterzogen wurde (siehe foto). Auf der rückseite wurden auch drei patches angebracht (siehe foto).
Gemälde insgesamt in gutem erhaltungszustand. H 86 x b 151 x t 2 cm. Gratis versand in ganz Italian. Jeder artikel wird höchst sorgfältig und sachkundig verpackt, in extra maßgerecht angefertigten holzkisten versiegelt und von einer authentizitäts-urkunde, einer garantie mit fotodokumentation begleitet. Parino antiquitätenhändler zeichnet sich auf dem markt durch besten und kostenlosen verpackungs- und versandservice aus.
Nach eingang der zahlung wir die ware sofort bis vor das haus verschickt. Wir akzeptieren keine zahlung per nachnahme. Die zahlung muss innerhalb von 7 arbeitstagen nach dem kauf erfolgen, andernfalls wird der artikel als unverkauf erachtet und erneut zum verkauf freigegeben. Jedem verkauften objekt liegt eine steuergültige quittung bei, sollten sie eine rechnung wünschen, teilen sie das bitte gleich beim kauf mit.
Kostenlose rückgabe innerhalb von 30 tagen. Die kunden können den kauf innerhalb von 30 tagen nach der lieferung ohne angabe von gründen und ohne zusätzliche kosten rückgängig machen. Die kosten zur rückgabe gehen zu lasten from verkäufers. Beschädigte oder veränderte artikel werden nicht zurück genommen.
Die güter müssen in den originalverpackungen zurückgeschickt werden, mit denen sie versandt wurden. This item is in the category "art, antiques\art of xixe and before\paintings, enamels". The seller is "parinomercatoantiquario" and is located in this country: it. This item can be shipped to the following country: france.
type: oil
characteristics: on canvas
theme: religion, mythology
artistic current: Italian school
Authenticity: unknown Measurements: h 86 x l 151 x p 2 cm