Small Antique Miniature Oil Painting on Wood Panel School of Barbizon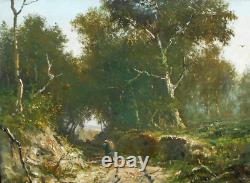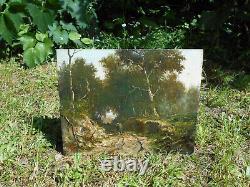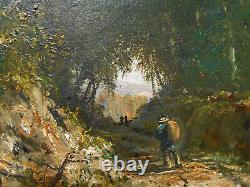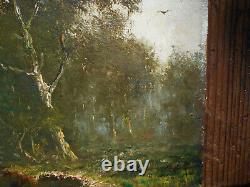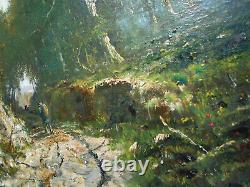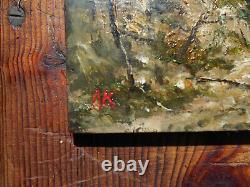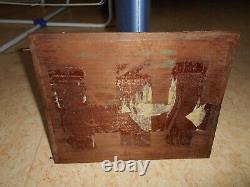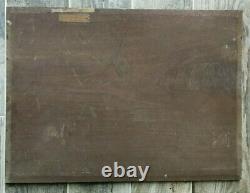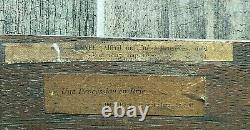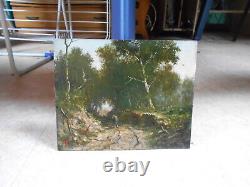 Hello, I am selling this painting with a height of 21 cm and a width of 26 cm. As the overall quality of this composition is lower than that of the artist's known and findable works on various auction websites, one can assume, if it is indeed the said painter, that this piece was made for a friend or as a thank you for services rendered to one or more people.
Inscriptions in pencil on the back of the panel, traced over in green, although unreadable, could support this theory. One last detail, the shape of the panel strongly resembles the one used by de Knyff for another one of his creations, an additional element that would confirm the artist's hand in this painting. It depicts a wooded landscape in which a man, carrying a bag on his right shoulder, walks along a path leading to an opening that serves as the point of perspective for the artwork. The foliage above seems to form a tunnel through which the man is about to enter; there is only one step to draw a parallel between this image and what the painter may have felt if the thanks for services rendered were confirmed, in the relief that was his, he who had been carrying a burden represented by the bag, at the sight of the tunnel leading to light and therefore deliverance.
Two or three people also seem to be waiting for him there. This whole composition is particularly highlighted by the background, astonishing in its realistic aspect, the play of shadows and light, and certain visual effects such as leaves crossed by what could be imagined as beams of light (leaves of the tree on the top right), or the mist in the woods on the right, giving it depth effects. Note the excellent state of preservation of the artwork, despite residues and traces on the back of the panel, sticky in some places.
The second-to-last photo was taken in bad weather to give you an idea of the color rendering under such conditions; my camera is less effective in this configuration, which explains the slight blur you may notice when looking at it. Attention collectors, people attracted to vintage items, curiosities, decorative objects, or simply admiring their intrinsic beauty!
It's an excellent gift idea. The shipment will be done with care, unless you prefer a personal pickup, which is entirely possible if you make the trip. If you have any questions or would like more photos, please feel free to let me know. PS: I also have other paintings and various antique objects that you can find on my profile.