Table Old Oil On Canvas Christ On The Cross After Diego Velázquez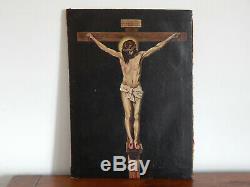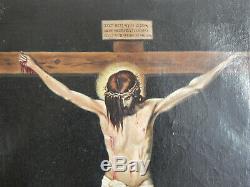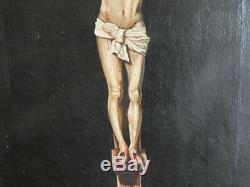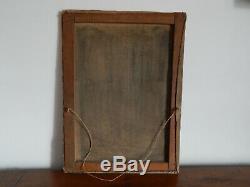 Diego Rodriguez de Silva y Velázquez. Old oil painting on canvas depicting the crucified Christ. Painted late nineteenth or early twentieth. Dimensions: height 62.5 cm - 45.5 cm length. The pictures are part of the description.
The crucified Christ, or Christ of San Placido, is an oil painting on canvas velasquez. Preserved at the Museum of Prado. During his first trip to Italy between 1629 and 1630 velázquez was able to study the works of the great Italian masters. His bare duvres classical studies appear in the forge of Vulcan. And the coat of Joseph.
These studies have allowed the master to paint this nude. That merges serenity, dignity and nobility of character. This is a full frontal and nude.
Without narrative context with which Velasquez made a demonstration of his mastery and allows the viewer to grasp the physical beauty and serene expression of the figure of Christ. For spirituality and mystery, this piece inspired the Spanish writer and philosopher Miguel de unamuno. A long poem titled christ of velázquez. Velázquez painted a Christ Apollonian, the dramatic content, without insisting on the blood, although it was most visible cause. Although dead, christ not seffondre, avoiding strain on arms.
Christ sappuie four nails, as recommended by his stepfather Francisco Pacheco. The cross is smooth with wood nodes. A sign indicates the title in Hebrew, Greek and Latin.
Her feet firmly on a footstool. The cross is planted on a small mound discovered during the last restoration. On a gray-green background on which is projected the shadow of the illuminated cross move. The body is molded with slurry, widely spread, focusing on the modeling and lighting.
Some parts are \What makes a particular texture, especially around the droopy hair and shoulders. As in bare Forge Vulcan. The shadows are obtained by reviewing shots with very dilute brush and same color, shading by irregular skin tones areas already completed.
In seeking the largest natural when running. Velasquez corrects the positions of the legs crossed and initially were almost united. It endows the figure of a better movement and puts the hip in a Contrapposto. Classic which places the weight on the right leg.
The loincloth, very small, allows to The emphasis on the naked body. This is the part of the painting where paint is thickest. With light effects obtained using lead white touches of color applied to a finished surface. The head is wrapped dune narrow halo of light that seems to emanate from the figure itself, falls face on his chest revealing the noble traits.
More than half of the face is covered with long hair falling plumb. The item \The seller is \
Features: Canvas <\/ li>
Type: Oil <\/ li> <\/ Ul>